Every year, we make a habit of touching base with our clients to make sure their insurance still makes sense based on their current needs. Doing so is often a reminder of how quickly things change and how the changes in life can impact planning and insurance.
Why insurance reviews make sense
Life moves fast. And when it does, we rarely think of our insurance policies. But we should. Any of the following life events can warrant an insurance review and/or change.
Marriage
Children
New home or other major purchase
New job/promotion/raise
Divorce
Illness
Death
Most people don't get excited about meeting with their insurance salesperson, and understandably so. But everyone should want to make sure they're getting the best coverage for their situation and the best deal they can.
We are often amazed right along with our clients by the major improvements we can make by simply conducting reviews and adjusting as needed.
Case Study: Sam*
I first met Sam when he called to say his youngest child had just graduated from college and he wanted to know if he should keep the insurance he had in force. He originally bought the insurance to pay off the mortgage and ensure his kids could go to college. Those goals had been accomplished and he explained that he wanted to find a few extra dollars to add to his savings before he retired.
When we talked, I learned that Sam had 3 expensive whole life policies that totaled one million dollars of coverage and an additional $500,000 of term that had a level premium for the past 18 years. However, in just two more years, his cost for that term plan was set to skyrocket from about $1,200 per year to over $23,000. Whoa. And if that's not bad enough, the premiums would increase even further every year after that!
Sam was 61 years old and planned to retire in 3-5 years. He was concerned about health care expenses but was not interested in buying a stand-alone Long Term Care policy due to the expense.
After conducting a retirement income analysis, Sam saw that he probably had just enough saved as long as there were no unforeseen expenses or extra money spent on travel or other "fun expenses." He decided he wanted to keep his life insurance for a different reason than the original reason he bought it.
Rather than keeping the combination of polices he had, we consolidated all of them into a new plan that made much more sense. Instead of paying for whole life, which built up substantial cash values that he did not need, we merged went with a single plan that operates much like term insurance without the surprise premium increase. He was able to maintain the same coverage while reducing his annual premium from by over $10,000 per year.
Sam was thrilled. On top of this exciting news, the new insurance company also allowed us to add a provision for Long Term Care expenses. As a result of this rider, Sam will be able to access up to $1M of the policy benefits if he ever needs to go into a nursing home or pay for the expense of care brought into his home. Sam and his wife were both elated with the dramatic improvements we made – and the significant cost reductions.
Case study: Jack*
Jack was recently shocked to see his group term life policy jump up in cost. Generally, group term insurance is very inexpensive, but premiums can increase as employees get older. As a result, group term is often an economical alternative for younger buyers of insurance, but it can be very expensive for those approaching retirement. In Jack's case, he had purchased some of his insurance through the group plan at his office. He had a substantial need for coverage and received the maximum coverage they would allow: Three million dollars.
Jack was in excellent health— and group plans rarely reward those that maintain healthy habits. We showed him how he could replace the exact same amount of coverage with a new policy with guaranteed premiums for 10 years. This resulted in a premium savings of nearly $220,000 over just the next decade.
Jack's fixed premiums were as follows: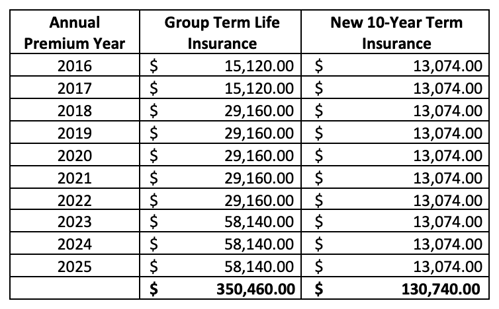 These changes went a long way to improve Jack's finances and his peace of mind.
What about you?
Reviewing your insurance may seem about as enjoyable as watching paint dry or organizing your sock drawer. Nevertheless, there are very important reasons to make sure you are adequately covered at costs you can afford.
Let's make sure this is the case. Take advantage of our free insurance review service and receive a written review and analysis of your current policies.
If you prefer a more traditional consultation, we can arrange that too.
When it comes to insurance coverage, you don't know what you don't know. That's our job, and we DO know. Let our experts help build a better future for you and your family. Get in touch today!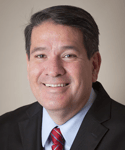 Written by Jim Van Eperen, CLU, Vice President of Raffa Insurance Services
Jim has been recognized for his holistic approach in helping solve complex business planning needs within the context of personal financial goals. He has a passion for getting to know each of his individual clients and crafting custom solutions just for them.
*Names have been changed to protect privacy.
Photo by Shahril KHMD